What are prefixes?
What are prefixes? A prefix is a group of letters than can attach to the beginning of a root word to change its meaning.
For example, adding the prefix 'un' to the root word 'certain' creates the new word 'uncertain'. The prefix 'un' gives the new word a negative meaning.
When are children taught about prefixes?
In Year 1 children are introduced to words with the prefix 'un', but most other prefixes will not be taught until Key Stage 3. Here is a list of prefixes children should be learning throughout KS2:
Years 3-4
| Prefix | Word examples |
| --- | --- |
| im | impossible, immobile |
| in | invisible, intolerable |
| mis | misbehave, miscalculate |
| dis | disagree, dislike |
| il | illogical, illegal |
| re | reuse, refill |
| inter | interact, interest |
| anti | antisocial, antibacterial |
| super | supernatural, supervise |
| auto | autograph, autobiography |
| sub | subscribe, submerge |
Years 5-6
| Prefix | Word examples |
| --- | --- |
| bi | biology, bicycle |
| aqua | aquatic, aquarium |
| aero | aerobics, aerospace |
| micro | microphone, microscope |
| audi | audience, audible |
| trans | transplant, transaction |
| prim | primary, primitive |
| tele | telephone, telescope |
| re | rewind, rename |
| pre | preview, predetermine |
| tri | tricycle, triangle |
In later KS2, children will also learn the meaning of different prefixes. For example:
| Prefix | Meaning | Example |
| --- | --- | --- |
| bi | two | bicycle (two wheels) |
| auto | by itself | automatic (happens by itself) |
| sub | under | submarine (underwater) |
How are children taught about prefixes?
Teachers may focus a spelling test on words which begin with a particular prefix. For example, one week children may be asked to learn the following words:
unhelpful, unhappy, uncertain, unafraid, unable, unbelievable, unsafe, unusual, untrue, unusual.
Children may also be given prefix word banks when they are completing written exercises. The process of learning different prefixes and looking at example words will help to expand a child's vocabulary and encourage them to use new words in their writing.
How to help children with prefixes?
One way to help children with prefixes is to make a set of prefix cards and root word cards and get them to match the root words to a suitable prefix. This will test a child's knowledge of the prefix definitions and will also help them with spelling, as the words are broken down into sections.
Children may have to answer questions on prefixes during their Year 6 Grammar, Punctuation and Spelling Test. Therefore, it can be useful to give children practice questions so that they get an idea of what they will be expected to do. Here is an example question:
Draw a line to match each prefix to the correct word so that it makes a new word: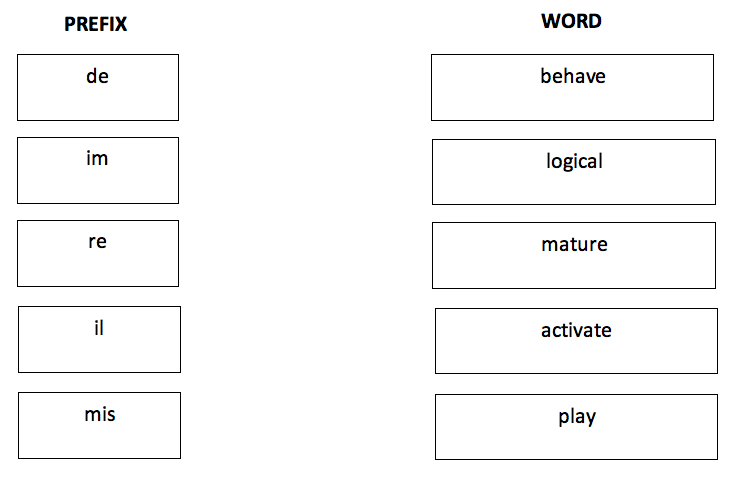 Answers:
deactivate, immature, replay, illogical, misbehave
How does Learning Street help children with prefixes?
Spelling Patterns is a structured part of the Learning Street courses. This will allow the children how to spell the prefixes, and also how to use them in sentences to allow them to properly understand the word.
Repeated use of prefixes when writing their own sentences, and learning about them through exercises such as spelling groups, spelling patterns and others will allow the child to get a full understanding of prefixes which is important for the Year 6 Grammar, Punctuation and Spelling Test.
Our Courses  
Click through to review the courses we have available
---